ACS NDU Student Chapter Outreach program on the theme *Chemistry and Industrialization* was carried out at the NDU Secondary School on the 30th of June 2023, the theme focused on WHAT is Industrial Chemistry, WHO is an Industrial Chemist and HOW the Chemical Industries has developed the Economy positively.
Industrial Chemistry is an entrepreneurial field of study and Chemist in this field have high chances of becoming independent by turning raw material from chemical compounds into something useful to man and the society. The need to sensitize the younger science students in highschool about the benefits of going into the field of industrial chemistry is so as to increase the rate of industrial development and also produce more chemical entrepreneurs who will help reduce unemployment in the society by creating more jobs in the chemical Industry SMEs. Chemistry is everything and the periodic table has a whole lot of wealth in it needed to be explore by Industrial Chemist.
Special acknowledgement goes to outreach team listed below:
IHEME EBENEZER CHINAEMEREM (PIONEER PRESIDENT)
Ms GEORGE MIRACLE LUCKYERE ( PIONEER VICE PRESIDENT)
Ms CHINAZA CYNTHIA ( PRESIDENT ELECT 2023)
JONAN OBONIN POYOMAM (MEMBER)
MILLER EMMANUEL (MEMBER)
OUSERIGHA BOMIEGHA (MEMBER)
ECHENDU ISRAEL NKEMJIKA (MEMBER)
CHARLES PRECIOUS(MEMBER)
ADANNA DORIS NWAGU (MEMBER)
SUPPORTING ORGANIZATION
INTERNATIONAL YOUNGER CHEMIST NETWORK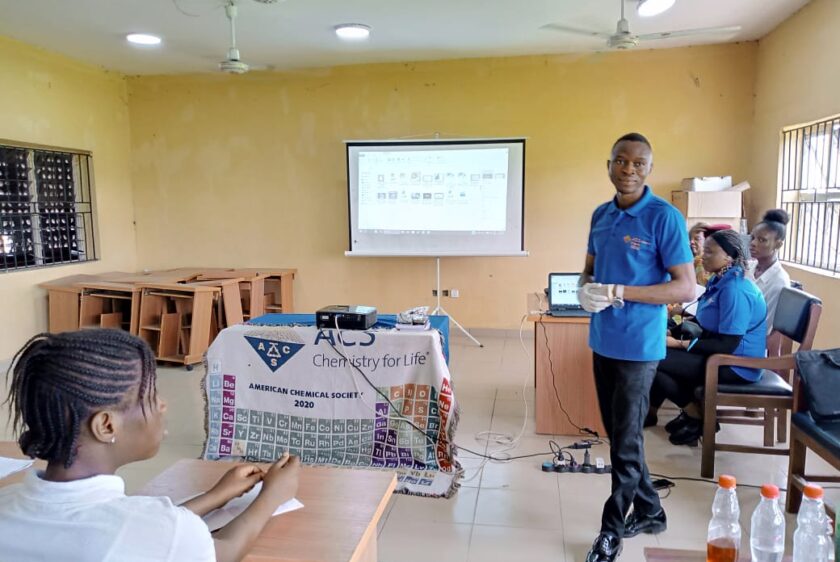 The outreach wont have been possible without the financial and digital support of the team members and IYCN Scientific Organization, as it aided in the provision of Eye googles, Mathematical Set, and Dozens of Notebooks given to the Secondary School Junior and Senior Students who answered questions correctly including reciting the periodic table first 20 elements.
It was a way to motivate and encourage this Junior students on the need to be studious in their Academics.
We also appreciate the Chapter advisor Prof Ezekiel Dixon Dikio, the Dean of Faculty of Science Prof. Inengite Azibaola, Head of Department Chemical Sciences Dr. Godwin Jackson and all Lecturers in the Department of Chemical Sciences, Pure and Applied Chemistry program for the knowledge of Chemistry they have impacted in every member of the Chapter, and this knowledge was passionately shared to the high School Students in promoting Chemistry.
Chemistry for Life.